This is the second of a two-part review of the 28mm predator models currently available from Predastore.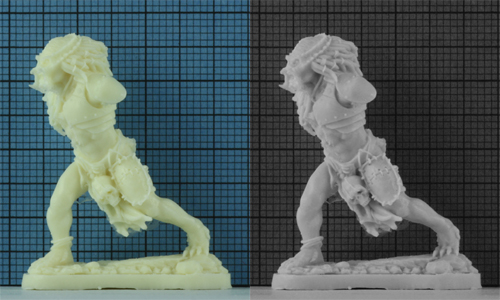 Predastore has been fortunate with the talent they've been able to recruit to sculpt models for their catalog.  Sculpted by industry veteran Allan Carrasco, the Bone-Hunter predator is no exception.  (If you're not familiar with Allan's work already, be sure to check out his website; doubtless there's something there you'll recognize).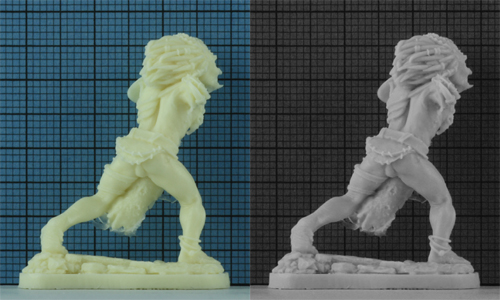 Unlike the Spear Hunter predator featured in my last review, the Bone-Hunter was cast in a cream resin.  Resin recipes can vary widely, and many contain additional ingredients like ceramic base materials (the item description for Hasslefree's Artemis provides some information on this).  In the case of the Predastore models in my possession, I can't detect any significant difference between the two resins used to cast the Bone-Hunter and Spear Hunter models.  The quality of both is excellent.  There are no air bubbles or gross miscasts; and any flash is so papery thin, that mold lines are minimal if not present at all.
Originally I wasn't convinced by the compatibility of the "bone-hunter" theme with a race of aliens as technologically savvy as the predators, even knowing that this character was probably meant as a representative of their species in "prehistoric" days.   I'm over that, however.  I think the theme for this model synthesizes perfectly with the modus operandi of the race as whole: the devotion to challenging hunts in which predator and prey are *almost* equally matched, especially when that involves reducing technological advantages of any kind to a minimum in order to maximize the primal elements of the hunt.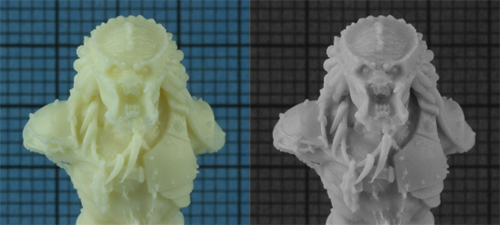 The most impressive element on this model, however, is the face.  It's absolutely perfect.  The amount of detail Allan was able to achieve in such a small area is remarkable.  On one level, that might make this model more of a challenge to paint; but it won't be impossible by any means, and the reward will be worth it.
I have just one critique about this model.  As with the Spear Hunter predator, I think the locks are too much like hair.  In this sculpt, they're "pulled back," suggesting, together with the pose, a sudden and very rapid move forward.   The locks of the aliens in the films, however, were far too fleshy and weighty to be affected by such movement.  That being said, this is a very minor detail, and one that wouldn't dissuade me from purchasing one.
As with all Predastore 28mm offerings, the Bone-Hunter is a limited edition model and is available from their website for about $21.00 USD (price includes worldwide shipping).